Welcome
to the Ark van Noë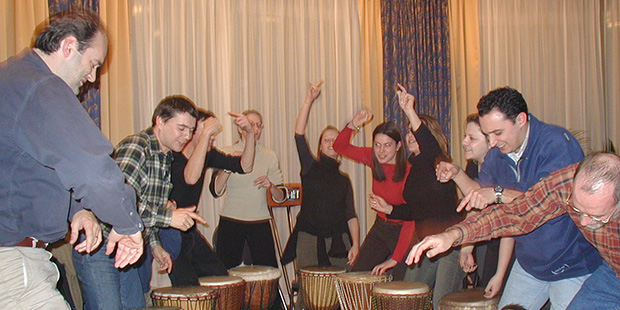 Workshop percussie
–
To ensure that you have an unforgettable djembee session, we call upon a professionally trained instructor, Hanne Poos. You will first get an initiation to the instruments. We use djembes, supplemented with boomwhackers. Call it "tuned percussion tubes" or in other words "bars with their own tone". What's more… they each have a trendy colour which makes the spectacle even more colourful. Afterwards, you get to work in small groups to make your own composition and write a score. You will be taught a simple method for writing. You can get creative with this. At the end, all groups come together. A conductor is appointed and the creation is played together by the whole group.
Amazing and very team-binding!
2 hour
up to 100 persons
Ark van Noë, Arkstraat 6, 2460 Lichtaart
Download our program and catering menu
OPENING HOURS
ARK BRASSERIE
Open daily during major holidays from 11:00
Monday & Tuesday closed outside the holiday period
You can only reserve tables inside the brasserie and in the roof via the RESERVATION MODULE
ARK BEACH
From Sunday 14 May to Sunday 24 September
Thursday from 18:00 Salsa Beach
Sunday from 13:30 in good weather
Table reservations at Ark Beach are only possible from 8 people and this by mail to [email protected]
HOW TO CONTACT US?
Have you read our FAQ but still haven't found the answer?
Then contact us by e-mail.
You will get more detailed information than over the phone.
Phone
Do you still have a subject that requires telephone consultation?
You can reach us by telephone from Monday to Friday between 08:30 and 13:00.
014 51 41 42