Welcome
to the Ark van Noë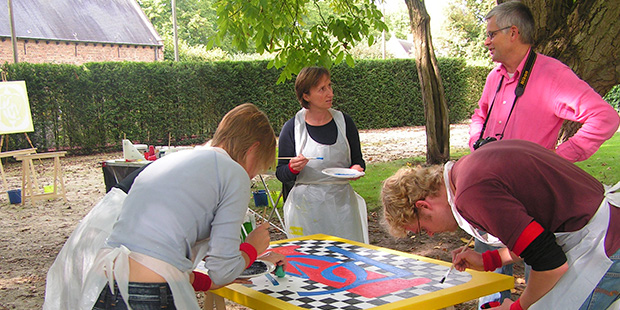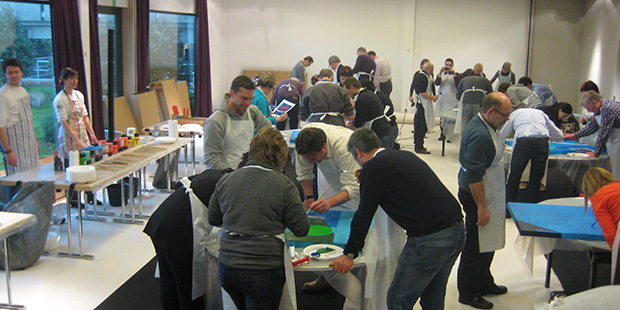 Painting Workshop
–
More and more companies use a painting workshop as teambuilding. You have a nice activity and a beautiful end product. You can do many things with it, like creating your own graphic design or let the participants finish a concept designed by us. We always provide a customised approach so that it is an added value for your company. All the paintings are brought together and the bigger picture becomes visible. Always a surprising and exciting apotheosis.
1.5 to 2 hours
6 to 500 people
Ark van Noë, Arkstraat 6, 2460 Lichtaart
Download our program and catering menu
OPENING HOURS
ARK BRASSERIE
Wednesday open from 12:00
Thursday and Friday open from 15:00 (kitchen from 17:00)
Saturday and Sunday open from 10:30 am
Monday & Tuesday closed
You can only reserve tables inside the brasserie and in the roof via the RESERVATION MODULE
ARK BEACH
From Thursday 19 May to Sunday 25 September
Thursday and Sunday in good weather
Friday and Saturday from the end of June to the end of August
Table reservations at Ark Beach are only possible from 8 people and this by mail to [email protected]
HOW TO CONTACT US?
Have you read our FAQ but still haven't found the answer?
Then contact us by e-mail.
You will get more detailed information than over the phone.
Phone
Do you still have a subject that requires telephone consultation?
You can reach us by telephone from Monday to Friday between 08:30 and 13:00.
014 51 41 42