Welcome
to the Ark van Noë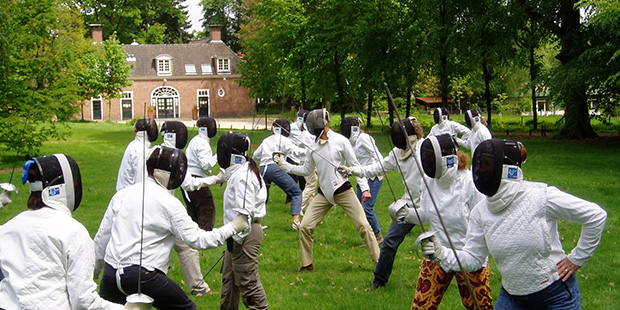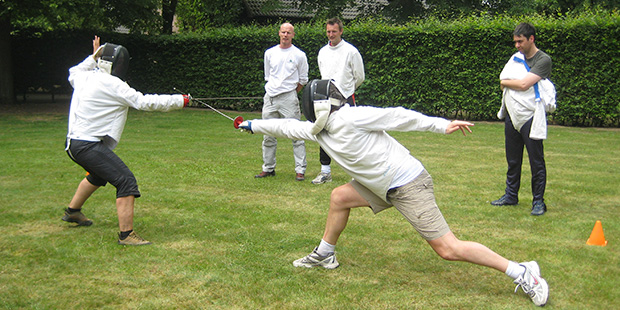 Fencing Workshop
–
You may have seen it on television. On a long mat stand two people in a white suit and a mask. When one of the players hits the body of his opponent with his stabbing weapon, a light goes on … A professional instructor will introduce you to this sport of gentlemen. You will be initiated by a professionally trained instructor. It is mainly about technique, but if you really want to go for it, it can be very physical. Each participant determines his/her own intensity. We provide the necessary protective clothing (vest and mask) and fencing dyes. We use florets: very light, very flexible and ideal for learning this sport. We start with an initiation to the basic techniques. First alone, then with a partner. And we end with a small tournament where we judge each other. It is suitable for everyone. You certainly won't score with physical violence. A combination of agility, alertness, and speed will get you a lot further.
1,5 hour
up to 80 people
Ark van Noë, Arkstraat 6, 2460 Lichtaart
Download our program and catering menu
OPENING HOURS
ARK BRASSERIE
Open daily during major holidays from 11:00
Monday & Tuesday closed outside the holiday period
You can only reserve tables inside the brasserie and in the roof via the RESERVATION MODULE
ARK BEACH
From Sunday 14 May to Sunday 24 September
Thursday from 18:00 Salsa Beach
Sunday from 13:30 in good weather
Table reservations at Ark Beach are only possible from 8 people and this by mail to [email protected]
HOW TO CONTACT US?
Have you read our FAQ but still haven't found the answer?
Then contact us by e-mail.
You will get more detailed information than over the phone.
Phone
Do you still have a subject that requires telephone consultation?
You can reach us by telephone from Monday to Friday between 08:30 and 13:00.
014 51 41 42