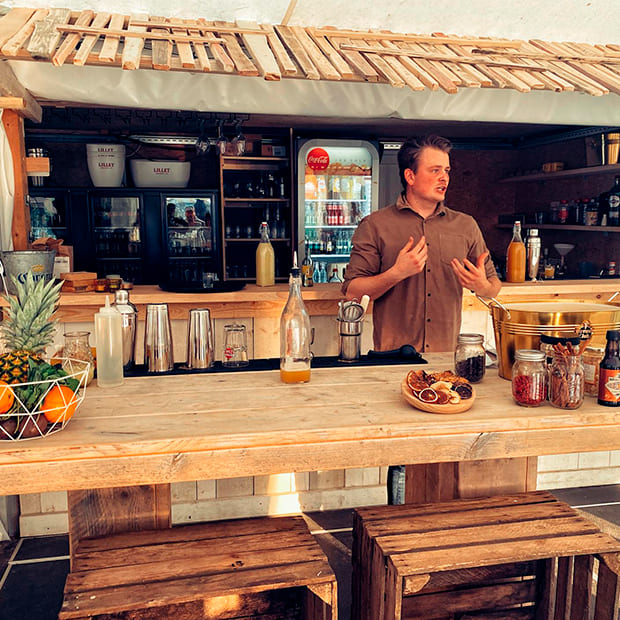 D. MAKING COCKTAILS
–
Do you also love a refreshing cocktail but don't know how to get started? Then our bartender will be happy to help you on your way! With his enthusiasm, he knows how to fascinate every layman. You start with a shot to get into the mood. Then you will make three different cocktails together. If desired, mocktails can also be provided. We will of course provide all the ingredients and equipment. Santé!
2 hours
10 to 60 people
No special requirements
Ark van Noë, Arkstraat 6, 2460 Lichtaart
OPENINGSUREN
ARK BRASSERIE
Openingsuren april t.e.m. september:
- woensdag vanaf 12u
- donderdag en vrijdag vanaf 15u
- zaterdag en zondag vanaf 11u.
Op feestdagen en tijdens schoolvakanties dagelijks open vanaf 11u.
In september gesloten op donderdag (m.u.v. 7 september 2023).
Tafels reserveren kan enkel binnen in de brasserie en in de overkapping via de RESERVATIEMODULE
ARK BEACH
Vanaf zondag 14 mei tem zondag 24 september
Donderdag vanaf 18:00 Salsa Beach
Zondag vanaf 13:30 bij goed weer
Tafelreservaties op Ark Beach zijn enkel mogelijk vanaf 8 personen en dit via mail aan [email protected]
HOE ONS BEST CONTACTEREN ?
Onze FAQ gelezen maar toch uw antwoord nog niet gevonden?
Neem dan contact met ons op via mail.
U krijgt daar meer uitgebreide info dan via de telefoon.
Telefoon
Heeft u toch nog een onderwerp dat telefonische afstemming nodig heeft?
Wij zijn van maandag tem vrijdag telefonisch te bereiken tussen 08:30 en 13:00.
014 51 41 42